Game Information
Author:Rating:
Unrated
Type:
Game
Genre:
Puzzle, Maze, Action
Submited:
2019-07-04 20:23:08
Download:
Recent Games
Amazing Box Puzzles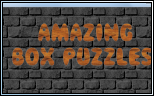 ABP (aka Amazing Box Puzzles) is game with a similar concept to Sokoban, Chips Challenge and my other game Mystery Mansion.
Your goal is to solve the various puzzles by using your character to push colored boxes to their respectives colored goals. Be careful pushing the boxes too close to the walls and also of the various traps in the rooms.
There are 3 types of puzzles. Standard, Scrolling and Landscape. each has there own Select screen for you to choose from.
Use the arrow keys to move your character. Within the game you use (R) to restart the level if you become stuck. (ESC) to quit the game immediately. (M) to go back to the Menu and (B) to go back to the Select screen you had chosen.
In the Option screen you can turn off the background music. the ability to play your own background is testing feature and may not work as best as i hoped. if you encounter any problems, please leave a comment. Please note that you can only .wav files.
Any criticisms or suggestions are welcome! please comment!