Game Information
Author:Rating:
Unrated
Type:
Game
Genre:
Shooter, Arcade, Space
Submited:
2019-07-04 19:13:25
Download:
Recent Games
DOTR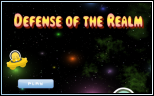 DOTR (aka Defense of the Realm) is a space arcade shooter similar to Alien Attack. It is a works in progress with 4 playable levels in this demo.
More levels, bosses and enemies will be in the final product.
The executable is Windows 32bit, so it should be able to run on all Windows versions as well as Linux using Wine or PlayOnLinux.