Game Information
Author:Rating:
Unrated
Type:
Example
Genre:
Installer
Submited:
2019-06-27 12:04:02
Download:
Recent Games
Double-Click ENIGMA Silent Installer (Linux)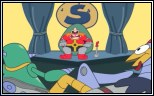 Easiest way to install ENIGMA on Debian-based distros...
1) Extract the archive. Open the correct extracted folder.
- On 32-bit Linux, open the "Launcher x86" extracted folder.
- On 64-bit Linux, open the "Launcher x64" extracted folder.
2) Open "password.sh" with a text editor and replace "password" with your actual password for root, while keeping the quotes. then save the file. Close the text editor.
3) Double-click "Launcher", and wait for LateralGM to open.
That's it.
Note:
There is no progress dialog, it all installs in the background; this is to prevent the installer from needing dependencies. LateralGM opens when installation is complete, and it will take a while to install, so do not expect LateralGM to open immediately.
Comments
No comments have been posted, yet. Log in to post comments.