Game Information
Author:Rating:
Unrated
Type:
Example
Genre:
Simulation
Submited:
2019-06-23 23:02:34
Download:
Recent Games
Traffic Simulator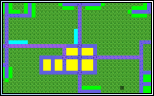 I have always been fascinated with simulation games like SimCity since I started using GameMaker. I have only recently started reaching the skill level where I can actually pull off efficient approximations like this and thought I'd share. This here is a basic city simulation model that has a pretty good approximation of an economy and public transportation.
Right now the traffic model is simply using a breadth first search with no cost association, so it's not Dijkstra's. This is one way the example can be improved. Existing traffic density could be factored into the commute time and associated cost making the simulation even deeper.
Controls
========
Pan Camera: W/A/S/D
Camera Speed: Hold Shift
Residential: R
Commercial: C (unfinished)
Industrial: I
Streets: P
Toggle Traffic Density Layer: T
Comments
No comments have been posted, yet. Log in to post comments.