Game Information
Author:Rating:
Unrated
Type:
Example
Genre:
Puzzle
Submited:
2019-05-31 12:26:53
Downloads (2):
Recent Games
Meinsweepah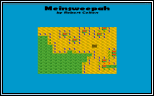 I created this as part of a coding challenge. This particular game involves a few tricks to uniformly distribute mines without killing the performance on large grids. Clearing empty cells also involves a recursive branching algorithm a la Dijkstra.
https://techdevguide.withgoogle.com/paths/foundational/coding-question-minesweeper/#code-challenge
Comments
No comments have been posted, yet. Log in to post comments.