Game Information
Author:Rating:
Unrated
Type:
Example
Genre:
Submited:
2019-05-12 08:48:48
Download:
Recent Games
Create a simple Select Level screen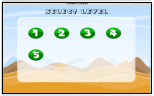 This is a short tutorial on how to create a 'Select level' screen for your game. All the levels will be locked except the first one. When it is completed, the next one will be 'unlocked' for you to play.
Linux users must choose a Dialog Widget system for the dialogs to work.
Comments
No comments have been posted, yet. Log in to post comments.