Game Information
Author:Rating:
Unrated
Type:
Example
Genre:
Puzzle, Match-3
Submited:
2019-04-23 10:18:04
Downloads (2):
Recent Games
Create a Collapse game tutorial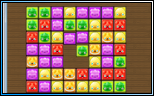 A tutorial on how to create a match 3 game like Collapse. There is no score system, no special effects, or additional features. Such can added by one without doing major work to the core of the project.
A Windows executable is included.
The source is fully compatible for Windows and Linux systems. It should also be able to work on Mac systems. However I did not get to test on a Mac system.
Comments
No comments have been posted, yet. Log in to post comments.