Game Information
Author:Rating:
Unrated
Type:
Game
Genre:
Puzzle Adventure
Submited:
2019-02-10 15:22:07
Download:
Recent Games
Mystery Mansion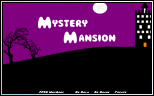 Mystery Mansion is a puzzle adventure game where you, the player,
must solve a series of rooms and collect the treasures. You must
also avoid traps and monsters as they try to twart your progress.
Use your puzzle solving skills to move your character to cover the
markers, getting the blue door key to open the treasure room. When
you've collected all of them, you will get the exit key to leave the
room. Solve all the rooms to get the biggest treasure of all.
Use the Arrow keys to guide your character. Be careful not to get stuck. Press 'R' to restart the game and you also lose a life. If the monsters touch you, you lose a life. Patience is your friend!