Game Information
Author:Rating:
Unrated
Type:
Example
Genre:
Submited:
2018-12-31 20:39:07
Download:
Recent Games
AI mp_potential_step Example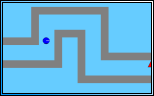 a sample game using the mp_potential_step function. One of it implications is as AI to moves towards a goal avoiding obstacles in its path.
Comments
No comments have been posted, yet. Log in to post comments.