Game Information
Author:Rating:
Unrated
Type:
Example
Genre:
Platformer
Submited:
2013-05-22 00:04:02
Download:
Recent Games
Copter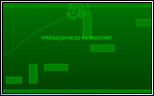 I found this nifty little open source game on the YoYoGames sandbox by DeadlySystem, it is very nice
It worked right out of the box too. This is just an engine to build the game, so you need to add some objects to the room yourself to make a map to test on.
Size: 2.56 mb's
Comments
No comments have been posted, yet. Log in to post comments.