Game Information
Author:Rating:
Unrated
Type:
Example
Genre:
Tutorials
Submited:
2013-04-15 03:27:31
Download:
Recent Games
Step by Step - 3D Tutorials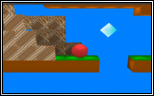 This is a tutorial pack of over 60 tutorials including PDF documentation explaining 3D concepts, originally from the GMC about %60 worked directly out of the box, and the rest are working with a few slight changes.
Comments
No comments have been posted, yet. Log in to post comments.