Game Information
Author:Rating:
Unrated
Type:
Example
Genre:
Example
Submited:
2011-07-21 16:11:08
Download:
Recent Games
Raytracer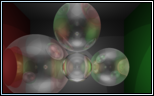 Raytracer - by x-Amnesia-x
This was posted on the gmc by x-Amnesia-x, I take no credit for the engine. The file is .gmk (GM8) and works perfectly in both GM and ENIGMA straight from the tin. The main difference though being that ENIGMA kills GM in the fps department.
This example renders an image using ray tracer. Thus there is a lot of math involved but also a lot of drawing. ENIGMA clearly has the speed edge here still. Note also, importantly, that the file could also be made more efficient in ENIGMA by the use of types but this hasn't even been done.
Example screens:
http://img12.imageshack.us/img12/1718/rendern.png
http://img180.imageshack.us/img180/2558/raytracerimage0.png
http://host-a.net/jonathanthemaster/image7.png
http://host-a.net/jonathanthemaster/image9.png
http://host-a.net/jonathanthemaster/image10.png
http://host-a.net/jonathanthemaster/image11.png
http://host-a.net/jonathanthemaster/image13.png
http://host-a.net/jonathanthemaster/teapot.png