Game Information
Author:Rating:
Unrated
Type:
Example
Genre:
3D
Submited:
2013-03-25 19:57:01
Download:
Recent Games
Simple 3d Walk Animation - revised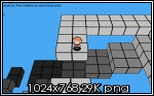 Been looking for a smoothly-animated character in 3D for a loooong time, here I find one on the gmc, works right out of the box.
By Drandula on the gmc;
http://gmc.yoyogames.com/index.php?showtopic=474399&st=0
Comments
No comments have been posted, yet. Log in to post comments.