Game Information
Author:Rating:
Unrated
Type:
Example
Genre:
Tool
Submited:
2013-03-24 22:09:11
Download:
Recent Games
Hardware Performance Evaluator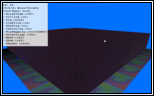 This is the tool used for testing ENIGMA's capabilities on various hardware. To build it you must go to Enigma->Settings in the main toolbar of LGM and enable the OpenGL3 graphics system. You also must go to obj_gamestate's create event and change the two file paths for the shader scripts because ENIGMA does not yet have a proper working directory.
Comments
No comments have been posted, yet. Log in to post comments.