Game Information
Author:Rating:
Unrated
Type:
Example
Genre:
Submited:
2012-08-22 21:39:22
Download:
Recent Games
Original Kingspace Engine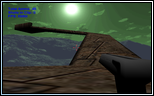 Nice little 3D engine, compatible with GM as well as ENIGMA (project K engine was based from this)
Info:
KingSpace 3.4
by Stephan Boyer (A.K.A. King Stephan)
This demo demonstrates both how terrain and models can be used along with Game Maker 6's new 3-D functionality. The terrain model is loaded from the file "level.3do" and feel free to change it. This example does not use fog in consideration for those who do not have a descent graphics chipset.
KingSpace was the first 3-D engine for Game Maker that demonstrates using models as terrain. Here are the controls:
WASD - Movement
Mouse - Look Around
Space - Jump
Ctrl - Crouch
R - Reload
P - Pause
G - Restart
Left Mouse Button - Shoot
Note: You cannot use the real-time rotation or scaling scripts with any models that are being used as terrain. However, you may use the standard ones which do not use Game Maker's transformation functions.
Screenshot:
http://i.imgur.com/7C4pp.png
-
Comments
No comments have been posted, yet. Log in to post comments.