Game Information
Author:Rating:
Unrated
Type:
Example
Genre:
engine
Submited:
2012-01-03 13:54:40
Download:
Recent Games
LightEngine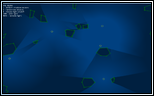 This is light engine (or shadow engine?) made by masterxy. It can be modified for ENIGMA to speed it up, but the only changes I made where to account for the lack of "variable_exists" functions and the lack of constants.
Video in action can be seen here:
http://www.youtube.com/watch?v=ysjUhafhWB4
Comments
No comments have been posted, yet. Log in to post comments.