Game Information
Author:Rating:
Unrated
Type:
Example
Genre:
Racing, 3d
Submited:
2011-12-03 20:50:34
Download:
Recent Games
Faux Mode 7 3d Racing Example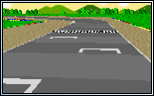 This is a faux mode 7 gmk (GM8) example which was released on the GMC by FredFredrickson. It now works in ENIGMA so I am releasing it here as it is a nice example.
I added in some controls myself so you can race the camera around the course. They are:
W - Accelerate
Left/Right Arrows - Stear
Up Arrow - Brake
D - Toggle user/computer controlled racing
Esc - Exit
Screenshot:
http://i.imgur.com/ypJ0p.png
----------
GMC topic:
http://gmc.yoyogames.com/index.php?showtopic=396566
All credit goes to FredFredrickson for this engine. Please ask him for permission before using the engine to build off as requested in his topic.
Comments
No comments have been posted, yet. Log in to post comments.