Game Information
Author:Rating:
Unrated
Type:
Game
Genre:
A-maze-ing
Submited:
2011-08-11 21:55:27
Download:
Recent Games
Basic Maze Game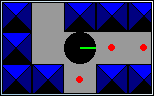 This is a simple maze game that my significant other, who has never really seen or used GM, made in LGM with my only contributions being the scripts - and all in about the course of an hour.
I find it's a great example of how intuitive and easy LateralGM+ENIGMA makes game development for someone who is not even remotely interested in the field.
Gameplay is entirely mouse driven. The bot uses the left-hand-rule (always keep your left hand on a wall), and as such it misses the inner dots. A minor modification could be made to make it grab those dots - but we'll leave that as an exercise to you, since this game is fully open source.
Comments
No comments have been posted, yet. Log in to post comments.