Game Information
Author:Rating:
Unrated
Type:
Game
Genre:
arcade
Submited:
2011-08-11 16:42:37
Download:
Recent Games
Cave In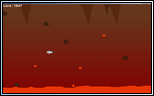 This is a port of a Ludum Dare game I created in 2 hours, viewable here:
http://www.ludumdare.com/compo/ludum-dare-15/?action=preview&uid=383
(It includes the GM-made version, for reference)
Avoid the lava and falling rocks for as long as you can! Why? Who cares!
Arrow keys move, escape quits. (Space or escape on final score screen to restart the game)
Some more info and comparison of GM to EGM version are in the readme file. Download link includes source gmk. Source with accompanying images are released into the public domain.
Download size: 800k
Screenshot:
http://i.imgur.com/Cscd7.png
ALTERNATIVE DOWNLOAD:
http://pwna.net/wp-content/uploads/2011/08/Cave-In-EGM.zip
Comments
No comments have been posted, yet. Log in to post comments.