Game Information
Author:Rating:
Unrated
Type:
Game
Genre:
Topdown Shooter
Submited:
2011-07-07 21:23:37
Downloads (0):
Recent Games
Biplane Battle! E-V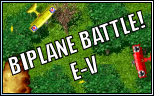 Biplane Battle! is a game I wrote and this is my attempt to convert it to ENIGMA at its current stage.
E-V stands for "ENIGMA Version" but I have included a GM version and the gm6 file.
Many things were not added/do not work properly/do not work at all/ or all of the above.
Some issues:
-The "background" is really just a bunch of sprites, because backgrounds haven't been added yet...
-Collisons are too limited, so I made my own make-shift collision system which works fine for this kind of game.
-Since game_end doesn't work, I have to purposely make an error when you lose to make you exit. >
-draw_text SUCKS (no offense) so you I'm using the caption instead
-NO ROOM WRAPPING!!!(Might be able to fix this)
Please do not use the images in the source without asking my permission to do so first.
Thank You.
-nbeerbower
nbeerbower@gmail.com
Any suggestions are welcome.
CONTROLS:
---------
Control - Fire
Up - Faster
Down - Slower
Left - Turn Left
Right - Turn Right
Space - Reset Location
((**Taken Straight From Notes in ZIP**))