Game Information
Author:Rating:
Unrated
Type:
Game
Genre:
Submited:
2020-08-05 21:09:59
Download:
Recent Games
Balloon Pop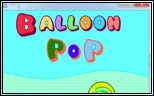 A simple game where you pop as many balloons as possible for the highest score one can achieve. It is geared towards young children and perfect for one to transition from Drag N Drop actions to writing code.
The game starts of with a fair amount of balloons but as time goes on the speed of the balloons motion increase making it it increasing difficult to stop them from going off-screen.
For every balloon missed, you lose a life. Every red heart-shaped balloon you pop adds an extra life. Every grey heart-shaped balloon also loses a life.
The source is fully customizable for one add more balloons, enemies and compile to other platforms.