Game Information
Author:Rating:
Unrated
Type:
Example
Genre:
Puzzle
Submited:
2020-07-24 00:30:08
Downloads (2):
Recent Games
Tetris for Enigma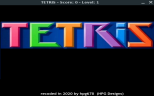 This version of Tetris was originally done in Gamemaker by a user named Davve (
http://www.stuffbydavid.com
). It was re-coded by me to work in Enigma. As the original author intends, feel free to edit and use as you see fit.
The source file is there for one to compile as one see fit as an executable to what OS one see fit.
There is a 64bit Linux executable compiled. It should run on any Debian based Linux distribution. You may need to set the 'run as an executable' bit as well as create a desktop file to run. Creating one is easy in Linux. In the menu editor you can create a launcher file and it will also run the file.
Comments
No comments have been posted, yet. Log in to post comments.