Game Information
Author:Rating:
Unrated
Type:
Example
Genre:
Submited:
2020-03-12 22:26:12
Downloads (2):
Recent Games
FreeBSD Demo Executable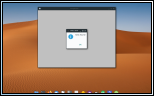 Here's a FreeBSD demo executable built with ENIGMA which demonstrates the basic dialog functions. Requires KDialog if KWin is your Window Manager, otherwise it requires Zenity.
Install Zenity:
sudo pkg ins zenity
Install KDialog:
sudo pkg ins kdialog
Comments
No comments have been posted, yet. Log in to post comments.