Game Information
Author:Rating:
Unrated
Type:
Example
Genre:
Arcade
Submited:
2019-09-26 17:20:25
Download:
Recent Games
Mithe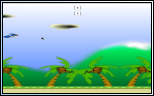 This tutorial show how simple it is to create a game similar to the popular mobile game 'Flappy Bird'.
The objective of the game is simple enough. Using your player, you must avoid pipes above and below you, by going through the space between the pipes. However, I have made some alternations to the original mechanics of the original game.
In this version
you can collect extra items for extra score
Extra pipes appear below you
extra enemies appear for you to avoid
One can expand the source code of the game easily by adding effects, a menu system or a highscore system. The possibilities depends on you.
The original file was done on Linux. However it should work on Mac and Windows as well. The source file is slimmed down to it barest in a working order. I did this since the different OSes handle resources like sound differently, errors may occur.
Hope you enjoy it.
Comments
No comments have been posted, yet. Log in to post comments.