Game Information
Author:Rating:
Unrated
Type:
Example
Genre:
Puzzle
Submited:
2019-07-27 23:08:26
Download:
Recent Games
Maximum Subsquare Matrix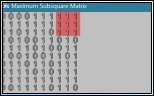 Another exciting coding challenge I've discovered is the maximal square or maximum subsquare matrix problem. The goal is to find the largest square of ones within the larger matrix. This time I have prepared a video demonstration where I will walk you through the solution to the problem.
https://youtu.be/JHirdD67Lw4
Comments
No comments have been posted, yet. Log in to post comments.