Game Information
Author:Rating:
Unrated
Type:
Example
Genre:
Arcade
Submited:
2019-07-13 00:21:40
Download:
Recent Games
Phi Fighter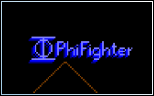 Almost complete. (Needs to be checked for bugs.)
Like a combination of Defender and Stargate in one package.
[Arrow Keys] = Navigate Ship
[Space] = Fire phasors.
[Shift] = Fire "Red Rocket" torpedoes.
[z] = Activate shield
[c] = Inviso Cloack
[v] = Hyperdrive
Joystick/Game controller support available (written into program.)
REMARKS:
Designed as part of a video arcade game cabinet project for use with a mechanical joystick and fire button interface. It is uploaded to check for bugs that may cause the game to crash, though more often during extended play.